TABLE TENNIS GUIDELINES:
Table Tennis New Zealand: Table Tennis Update
Table Tennis New Zealand: Contact Tracing for NZ Sport
Table Tennis Waikato: Covid-19 Operating protocols for Players & Visitors
Waikato Secondary School Table Tennis competitions are organised by Waikato Table Tennis Association.
Annually, there are two Interschool team competitions; one in term 2 and one in term 3. These competitions run on Fridays for 6-7 weeks.
SCHOOL STARTER EQUIPMENT PACKAGE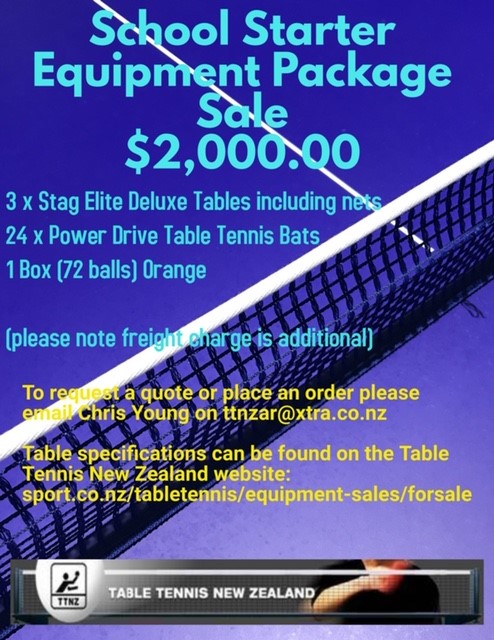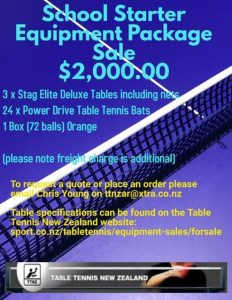 Table Tennis also has a School Sport NZ sanctioned event for more information about the national competition please see the School Sport NZ website.
Useful links:
Waikato Table Tennis Associaton
https://www.sporty.co.nz/wtta
Table Tennis New Zealand
www.tabletennis.org.nz
For Table Tennis results please visit Table Tennis New Zealand
2020 Table Tennis Results
WAIKATO INTERSCHOOL CHAMPIONSHIPS
A Grade Boys Singles
1st – Dai Lou (David) — Hamilton Boys High
2nd – Fraser Liao — Hamilton Boys High
3rd – Shodai Kagawa — St Pauls
4th – Frank Fu — Hamilton Boys High
Girls Singles
1st – Emily Jin — St Pauls
2nd – Rachel Wu — Rototuna High
3rd – Mia Reay — Hillcrest High
4th – Olivia Day — Sacred Heart
B Grade Boys Singles
1st – Michael Lin — Hamilton Boys High
2nd – Alex King — Hamilton Boys High
3rd – Lukmaan Mohammed — Hamilton Boys High
4th – Nileshan Jayaratnam — Hamilton Boys High