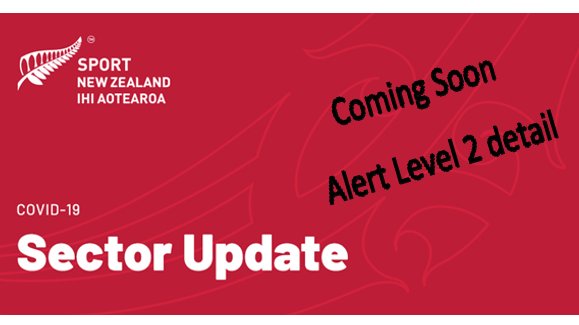 06 May

Upcoming News and Announcements

Upcoming news and announcements

Later this week an announcement is to be made regarding updated guidelines for the sport and recreation sector in alert level 2 by Government. Sport NZ will release these details.

The government in consultation with Sport NZ and stakeholders are considering scenarios around how sport and recreation could restart under alert level 2, provided conditions were met to ensure operations could be conducted safely. These conditions cover aspects such as physical distancing, limitations on mass gatherings, restrictions on travel and sanitation.

Sport NZ stated "We are currently finalising new information with the Government COVID response function, WorkSafe and MBIE. You can expect to hear more about what level 2 means for the sector later this week."

The new information will be posted to our website as soon as it becomes available. Note a decision around a potential move to alert level 2 is next Monday May 11.

Sport season transition update

The issue of how the sport sector will manage the transition from a shortened winter season into the 2020-21 summer season has been identified as requiring urgent attention. Currently, Sport NZ is in consultation with NSOs and other key partners, will develop these national guidelines for the 2020 season transition. These will be made available to regional organisations to assist them in determining the best solution for each region.

The national guidelines will be based on the Balance is Better principles previously adopted by the sector where the well-being and best interests of the participant are put first and foremost in all decision making.